717-938-6132
Professional In-House Screen Printing & Embroidery
We speciallize in high volumes, from 24 to 24,000+ custom shirts. Competitive Pricing. Expedited Turnaround & Shipping.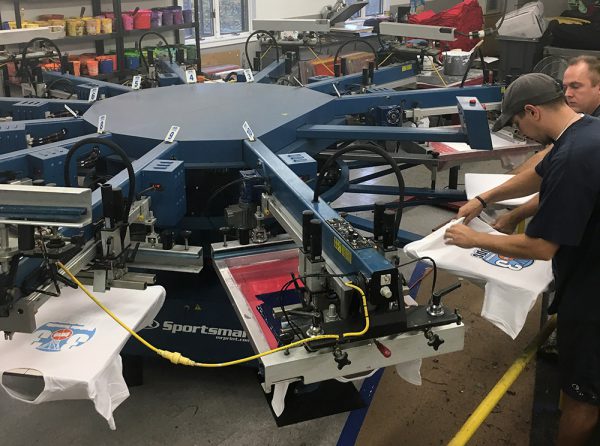 High-Quality Custom T-Shirts & Apparel
We take t-shirt printing seriously. Based in New Cumberland PA, KD Graphics specializes in high-quality custom t-shirts, screen printing and promotional apparel for any need.
About KD Graphics
KD Graphics started in 1985 when owner Karl Dodson began printing t-shirts in the converted garage of his parents' basement. What started as a fun, part-time hobby of rock concert t-shirt printing for local bands, quickly evolved into a full-time job. Through word-of-mouth and hard work, Karl's small 4-color manual press screen printing business has evolved into a trusted resource for hundreds of advertising agencies, companies, clubs and organizations.
KD Graphics, LLC has a team of full-time employees with over 200 years of combined knowledge and screen printing experience. We utilize the latest graphics software, automatic equipment and printing processes to produce custom t-shirts and apparel of the highest quality. Our in-house art department has two full-time graphic designers capable of creating anything from simple one-color designs and logos to multi-color illustrations and simulated process separation works of art.
We pride ourselves on expedited printing, quality finished products and a strong commitment to our clients and their satisfaction.
Capabilities
Professional In-House Screen Printing
Customized Embroidery
Vinyl Film Applications
Line Art Illustration
Four Color Process Printing
Up to 10-Color Printing
Distressed Filters
Niche Markets We Serve
Advertising Agencies
Contract Printing
Corporate and Retail
Clubs and Organizations
Screen Printers Needing Assistance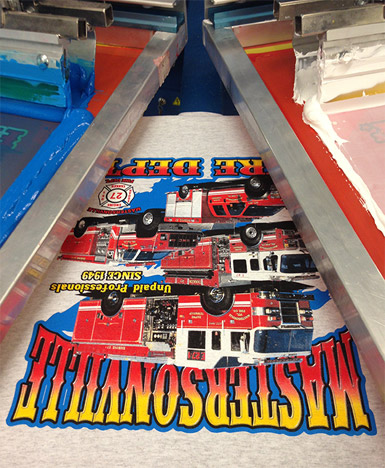 What Makes Us Unique
In a high demand fast paced world, every job is equally important. From a small business needing only 24 pieces, to a fortune 500 corporation requesting many more, KD Graphics has the ability to produce over 5,000 multi-colored screen printed items per day!
Our facility sits 5 minutes away from the AlphaBroder Harrisburg, PA warehouse that serves as one of the largest apparel and accessories distribution centers on the East Coast. We have access to high quantity inventory items, in all sizes and colors in our facility within as quickly as 2 hours to begin production.
We can fulfill large orders!
Quick turnaround time… Same day if necessary!
Up to 10-color printing capabilities!
Imprint area of up to 15" wide x 17" tall!
Daily UPS shipping and delivery!
Free Inventory Pick-Up at ALPHABRODER HARRISBURG warehouse included in our pricing!
Equipment
As we strive to exceed our consumers needs, we currently utilize:
M&R Automatic Screen Printing Presses (8-Color Sportsman™ and 10-Color Sportsman EX™)
M&R Sprint 2000 Gas Dryers
Hopkins International 6-Color Manual Press
Stahl's Hotrnix Digital Heat Press (for vinyl numbers/names, multi-color vinyl designs and tackle twill applique)
In addition, we use only prestretched aluminum and Newman™ retentionable roller frames to ensure proper registration and resolution throughout the entire job!